St Oswald's, Warton Parish Church
"A Living Church at the Heart of our Community"
St Oswald's is a thriving Church which has served this community for upwards of 1000 years. Our congregation is a mix of ages, and all are very welcome. Our services offer a range of experiences:

Sunday
8.00am Said Holy Communion, Traditional Book of Common Prayer
11am Sung Parish Eucharist with Junior Church in term time, modern words, all ages and good music
Monday
12 noon Quiet Said Eucharist in the Lady Chapel
Thursday
11am Eucharist followed by "Breaking Bread" lunch



For details of Baptisms, Weddings, Anniversary Blessings, Banns of Marriage etc and for other enquiries, please contact the Vicar, The Revd. Damian Porter
email: This email address is being protected from spambots. You need JavaScript enabled to view it. Tel: 01524 732946
Please find us on our website http://www.wartonstoswald.co.uk
The St Oswald's Flower Team
The pleasure of decorating the church with flowers and floral tributes is shared by a number of gifted people, who demonstrate their commitment to the body of the church and their faith, through their creative abilities. Each window, the Sanctuary, Lady Chapel, Memorial table and Choir vestry are filled regularly with unique personal floral expressions. In addition the special events in the Church year are celebrated with appropriate statements that reflect the season or are in keeping with the event. Together we believe that in this way we are able use God-given gifts to make our chosen place of worship welcoming and conducive to sharing our faith, by using the natural beauty we are so fortunate to enjoy.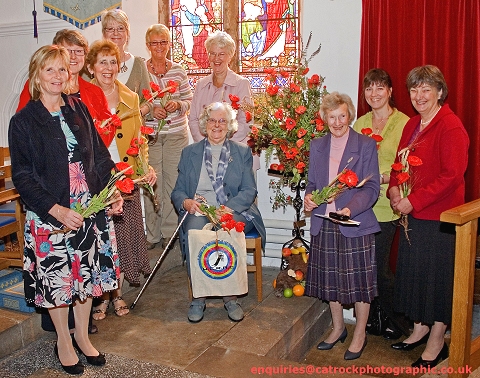 St. Oswald's Church Choir
The choir was reformed more than 35 years ago by Paul Winter and has worked hard to gain the current standard of singing. We rehearse twice a week and perform on the Sunday 11am service among others. Our music ranges from classical church period music to modern composers and songs. We welcome all singers; young and old, male and female.