Warton Crag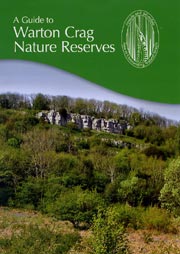 Warton Crag, 535 ft (163m) high, forms the backdrop to Warton Village and is the southernmost peak in the ring of limestone surrounding the Lake District. The area nearest the village is mainly open access.
It has the national designation of a Site of Special Scientific Interest (SSSI) and is managed for its nature conservation interest by Lancaster City Council, the RSPB, Lancashire Wildlife Trust and Lancashire County Council. Several areas are open for rock climbing.
Only 1.5 miles from Carnforth Railway station, and with a good local bus service, the Crag is easily accessible by public transport.
It is a mixture of limestone grassland with scrub and woodland. The site is nationally important for butterflies and moths. Many interesting plants can be found and Peregrine Falcons regularly nest in the Main Quarry.

Please click the image alongside to dowload the PDF file all about Warton Crag from the Arnside and Silverdale Area of Outstanding Natural Beauty website.